We give people with disabilities a voice and platform.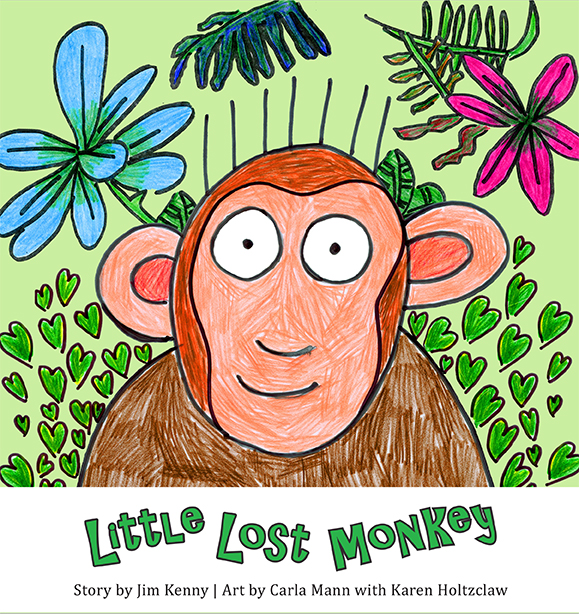 Foster-to-adopt tale highlights art of person with disabilities
BLOOMINGTON, Ind. — Chipper Wump's father goes off fishing and disappears. Shortly after, his mother is captured by zookeepers and taken away. Chipper awakens one morning to an empty nest in the tree and wanders the jungle in search of a home.
Little Lost Monkey is a foster-to-adopt children's story written by psychologist and foster father Jim Kenny. When seeking an illustrator for his book, Kenny decided to highlight the talents of an individual with developmental disabilities. Stone Belt Arc artist Carla Mann gave life to Kenny's mental picture of Chipper Wump, and she spent the next year drawing and coloring 48 pictures for the book.
Little Lost Monkey speaks to children coping with loss in their own language, reflecting the emotions they are likely to experience, not the ones adults think they should have. In this book, Chipper grows from being a vulnerable and frightened monkey to one coping and being empowered to take care of himself.
Various emotions experienced by a child in temporary care are represented in Chipper's encounters along the way. He encounters a snake, a tiger, and a crocodile before being helped by a wise owl. Chipper is temporarily mothered by a lioness before going to a chimpanzee village where he finds acceptance and love.
All proceeds benefit Stone Belt Arc, a nonprofit agency that provides supports to individuals with developmental disabilities.
Author visits Spring Mill School to share foster-to-adopt story of Chipper Wump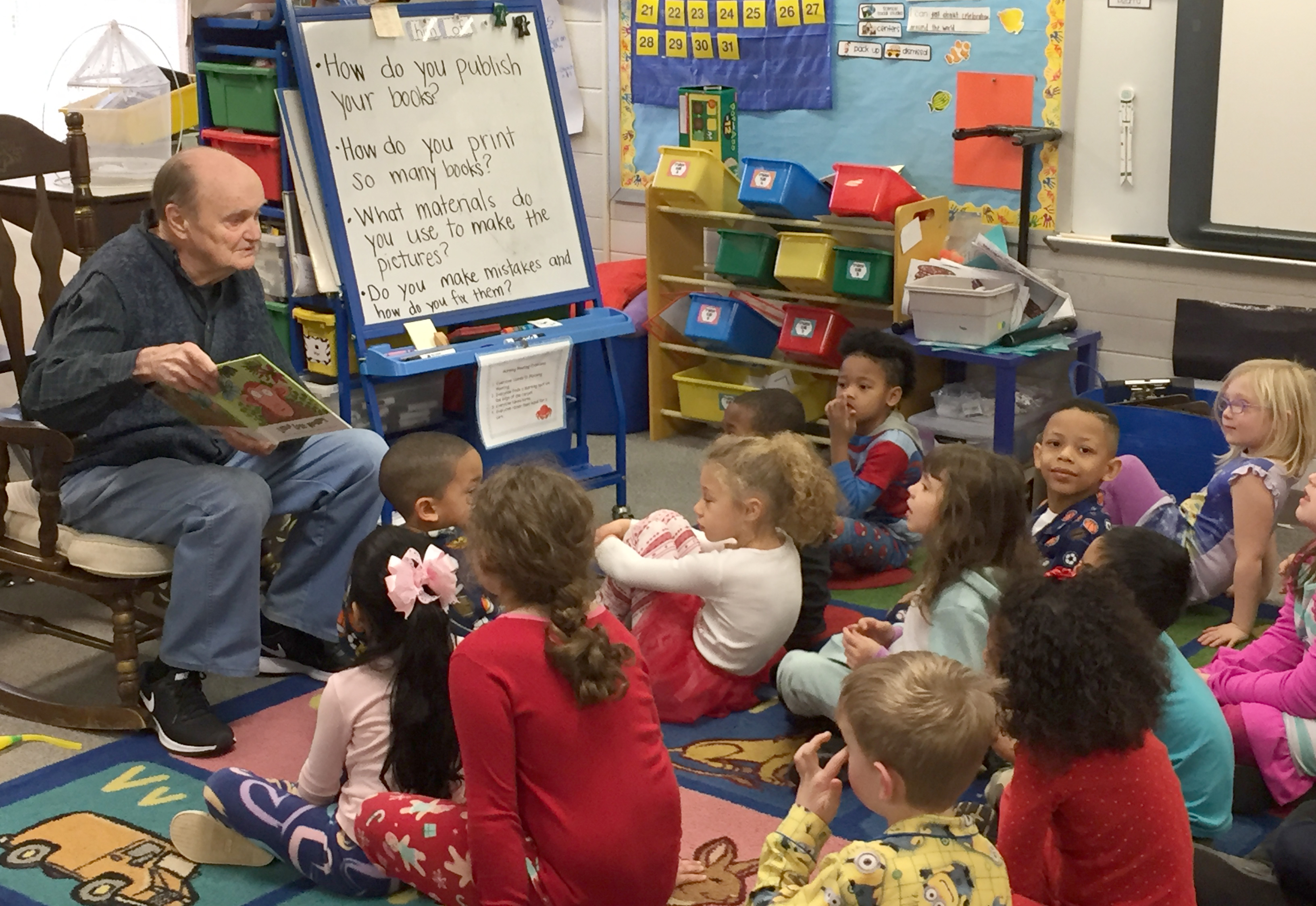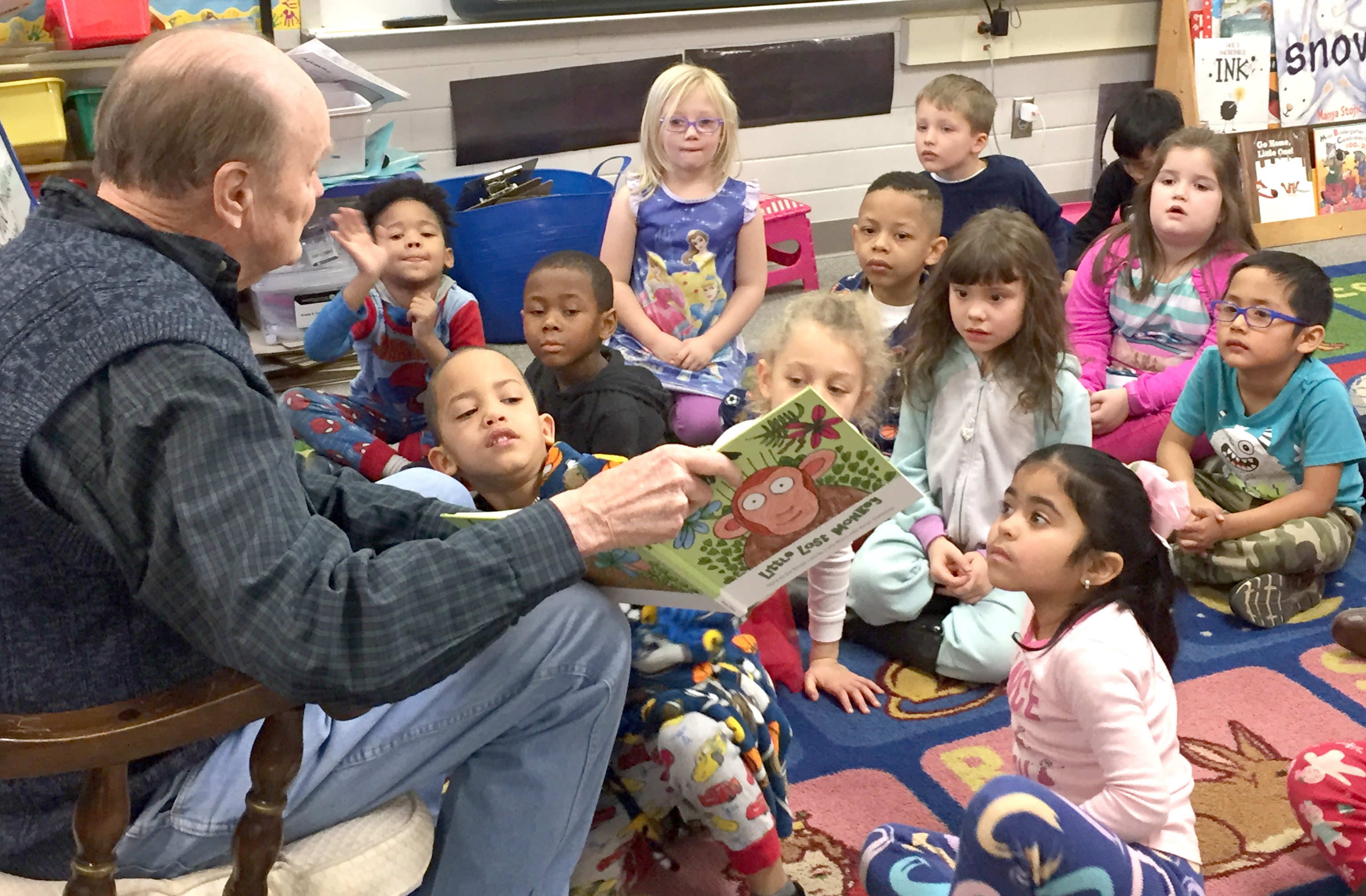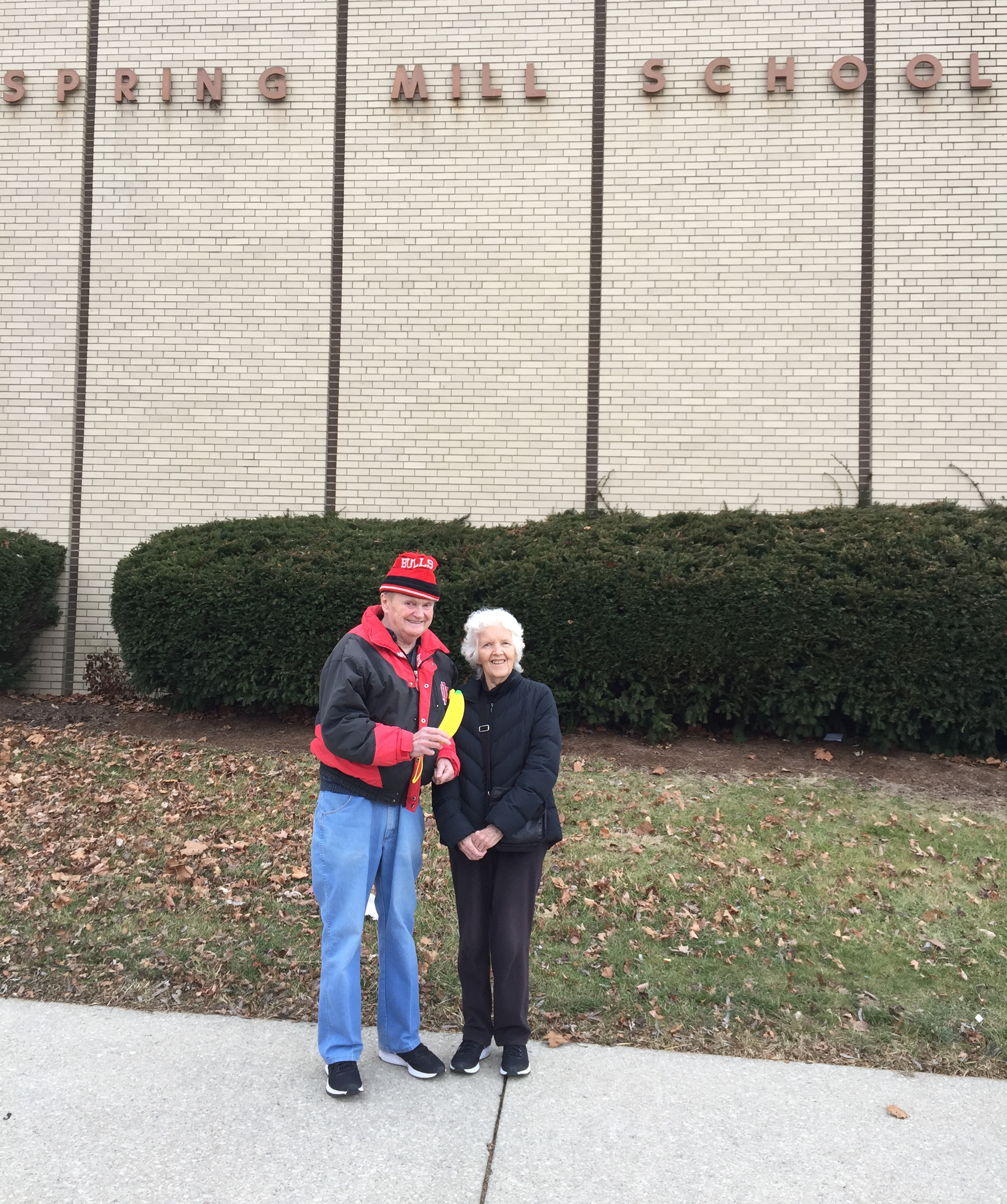 On February 1, 2018, author Jim Kenny received a warm welcome at Spring Mill School when he read his book, Little Lost Monkey, and answered questions.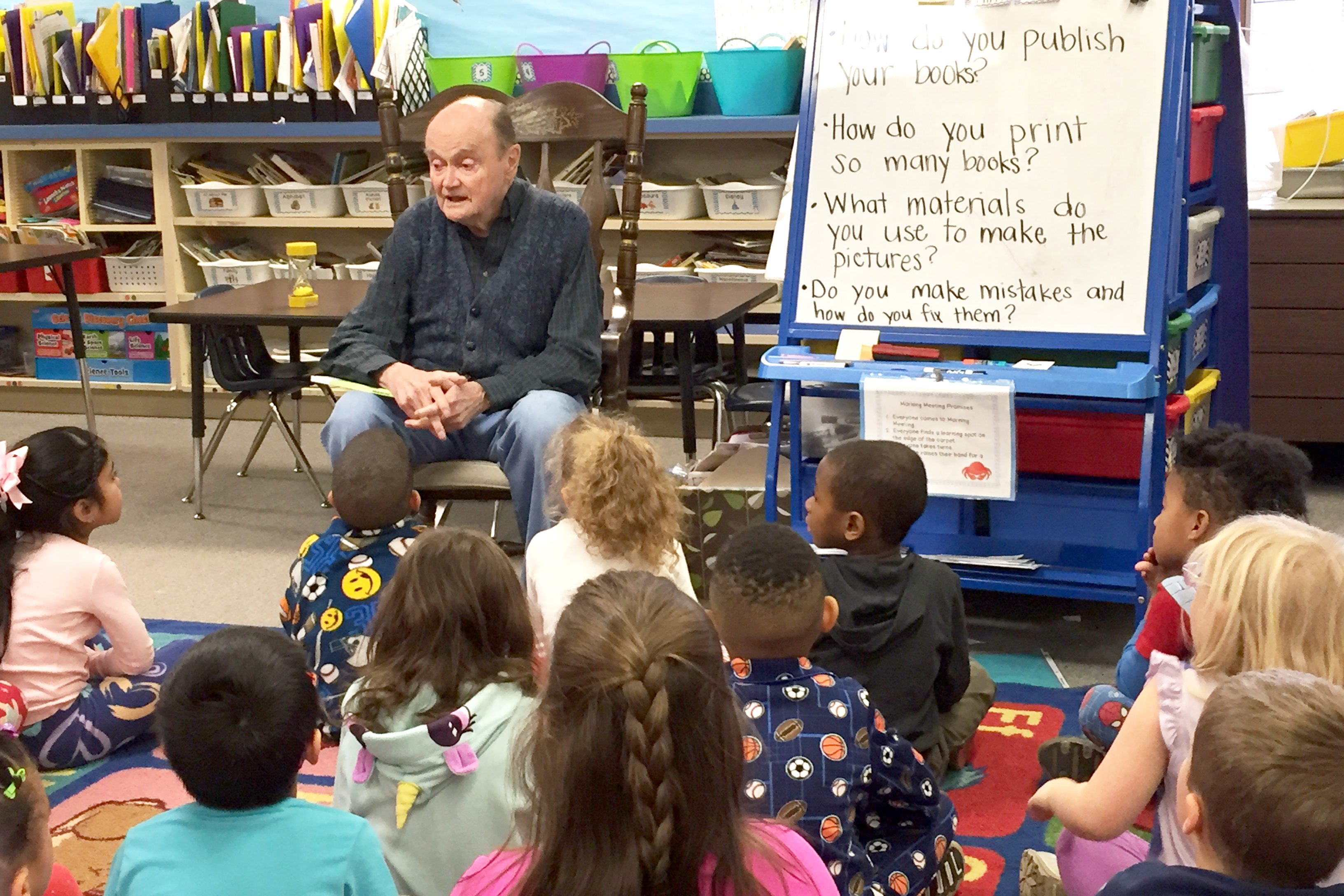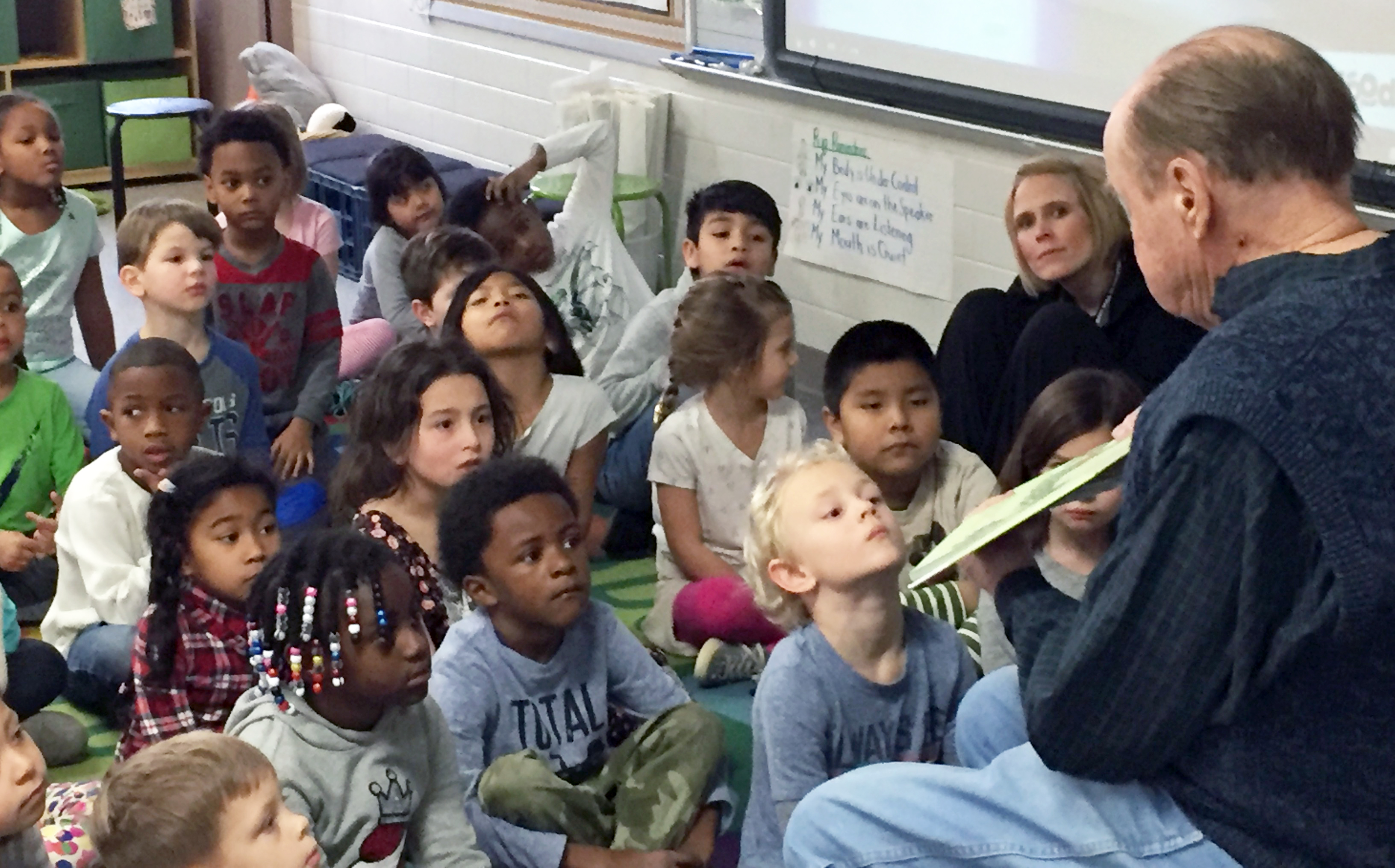 Meet the Author and Illustrator
Jim Kenny
Jim Kenny is a retired clinical psychologist, the father of 12 children and many more foster children. "I loved to tell bedtime stories. A special time at the end of our day for me to be together and share an adventure with two of my children at a time. Mostly, I made the stories up, expanding upon the earlier experiences of my audience by retelling them as a fantasy about two monkeys living in the jungle. Their last name was Wump, but interestingly, the monkeys in the story had the same first names as my listeners.
Carla Mann
Carla Mann now calls Bloomington, Indiana, her home, but moved around a lot as a child. Wherever she was, though, she was making art. Carla is a self-taught artist, who enjoys depicting holiday scenes, hearts, and doves. She is one of Stone Belt's most popular artists and has sold artwork that hangs throughout the community. She also likes poetry and creating celebrity collages. She loves being an artist because it gives her the opportunity to create things in her own way. Carla's other hobbies include listening to music and reading, particularly biographies of favorite recording artists.
All proceeds benefit Stone Belt Arc, a not-for-profit organization that believes in the uniqueness, worth, and right to self-determination of every individual. It is Stone Belt's mission, in partnership with the community, to prepare, empower, and support people with developmental disabilities and their families to participate fully in the life of the community.